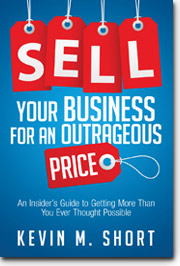 Sell Your Business For An Outrageous Price
AMACOM Books published Sell Your Business For An Outrageous Price by Kevin M. Short, Managing Partner and CEO of Clayton Capital Partners in September of 2014.
"This book is a culmination of a career spent working with business owners / sellers to get the very best prices for their companies," says Short. "For years I've wondered why two similar companies sell at drastically different prices: one at the expected multiple and the other at two or four or eight times that multiple." Short describes his findings in detail in his book.

Kevin identifies four elements that are present in every "outrageous sale," but notes that all is not lost if one or more of the outrageous elements is missing. "Not every owner has a company that can sell for an outrageous price, but all owners can prepare their companies to get the best possible price."

Available today from your favorite retailer.
Buy the Book
Bulk Sales 
In "Maximizing Sale Price with Clayton Capital," Kevin Short describes how his company works with buyers and sellers in the middle market.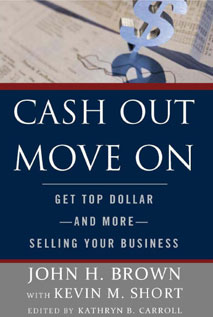 Selling Your Business Is the biggest Financial event Of Your Life.
Prepare Today To get Top Dollar For
Your Life's Work!
FOR BOOMER OWNERS, the clock, the demographic clock, is ticking. Boomer demographics, the Law of Supply and Demand, the state of today's Merger and Acquisition market, and the "Boomer Mindset" constitute the "perfect storm" for Boomer owners. This means that is you and your business are ready to sell, there are opportunities in selling your business now and significant dangers if you delay. Use this book to guide you through the process of cashing out of your business today and moving on to the next stage of your life. What are former owners saying about the sale process described in this book and life after the sale?