Publications & Books
Books
Sell Your Business for an Outrageous Price
An Insider's Guide to Getting More Than You Ever Thought Possible
Kevin Short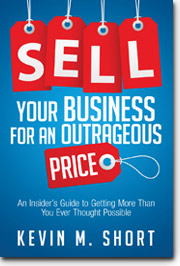 Too many businesses sell for far less than they should! After pouring time, energy, and money into their companies, owners deserve to squeeze every last dollar from that hard-earned investment. Sell Your Business for an Outrageous Price is an owner's playbook to winning big at the closing table. Readers will discover how to:
Prepare their companies and themselves for sale • Recognize the best time to go to market • Minimize risk • Identify, attract and motivate deep-pocketed buyers • Determine and leverage their companies' competitive advantage • Maintain their confidentiality • Find a transaction advisor with the skills and experience to guide them through the M&A jungle • Assess their own ability to pursue the Outrageous Price • Foil buyers' attempts to undermine sale price • And much more
Featuring real-life case studies and an appendix of indispensable tools including due diligence lists, a sale readiness assessment, sample nondisclosure agreements and a sample engagement letter, this insightful guide reveals how owners can get outrageous prices for their companies.
Kevin Short (St. Louis, MO) is the Managing Partner and CEO of Clayton Capital Partners, a leading middle market M&A advisory firm. Over the past 25 years, he has orchestrated over 150 purchase/sale transactions of mid-sized businesses with an aggregate value of more than $1 billion.
---
Cash Out-Move On
Business Enterprise Press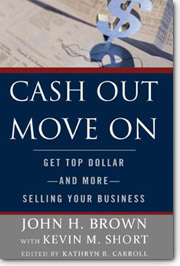 Selling Your Business is the biggest financial event of your life prepare today to get top dollar for your life's work!
For Boomer Owners, the clock, the demographic clock, is ticking. Boomer demographics, the Law of Supply and Demand, the state of today's Merger and Acquisition market, and the "Boomer Mindset" constitute the "perfect storm" for Boomer owners. This means that if you are your business are ready to sell, there are opportunities in selling your business now and significant dangers if you delay. Use this book to guide you through the process of cashing out of your business today and moving on to the next stage of your life.